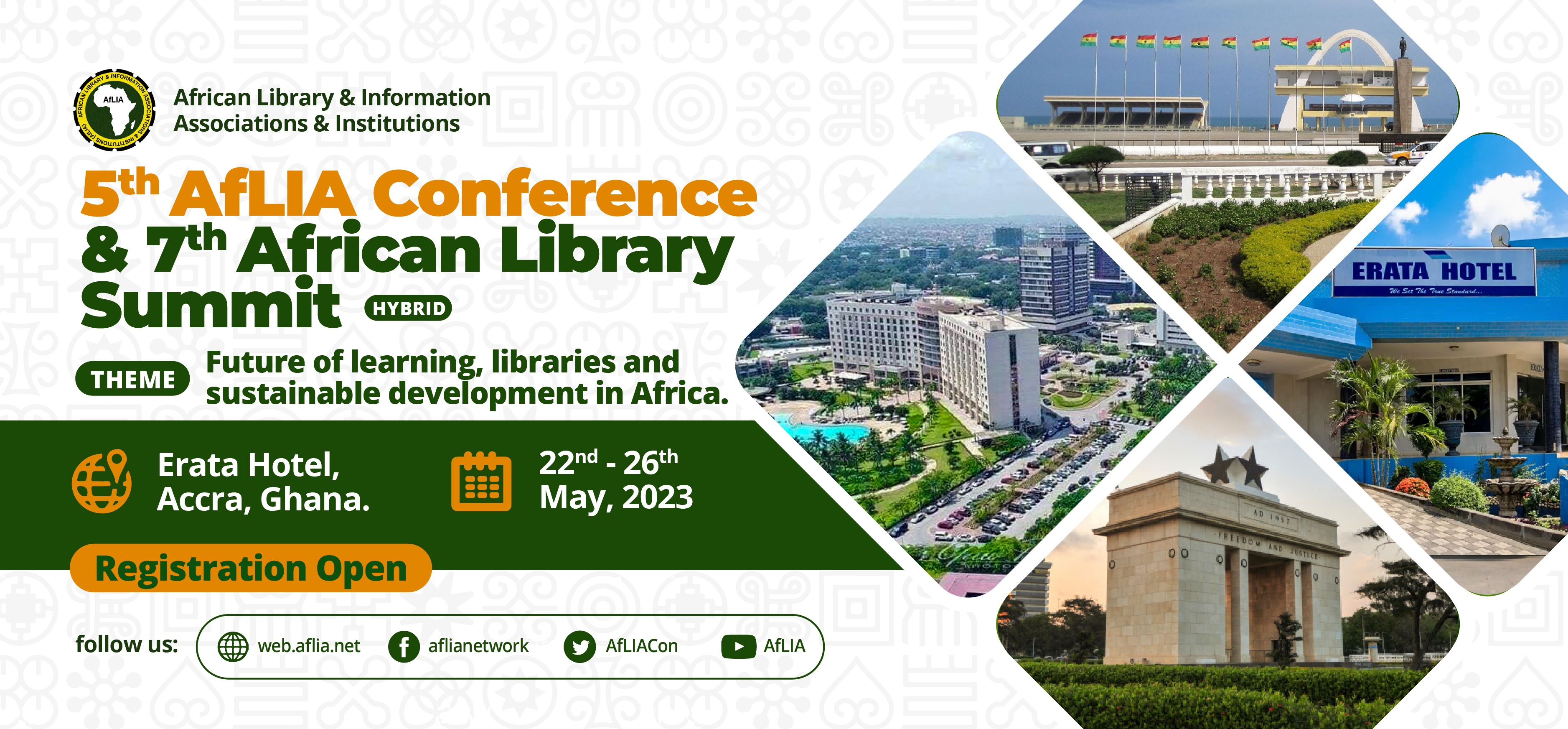 Packages for Exhibitors and Sponsors
IN-PERSON CONFERENCE EXHIBITION RATES
| | |
| --- | --- |
| Size of Stand & No. of Persons | Cost (USD) |
| 3m x 3m Non-AfLIA member – with 2 free persons to manage the stand | $2000.00 |
| 3m x 3m AfLIA member – with 2 free persons to manage the stand | $ 1800.00 |
| 2m x 2m Non-AfLIA member – with 1 free person to manage the stand. A 2nd person pays additional $400.00 | $1000.00 |
| 2m x 2m AfLIA member – with 1 free person to manage the stand. A 2nd person pays additional ($400.00) | $800.00 |
| Display Table and no person to manage the table but with paid conference fee | $300.00 |
VIRTUAL EXHIBITION RATES
| | |
| --- | --- |
| Rates for virtual exhibition space | Cost |
| Virtual exhibition | $1000.00 |
| Virtual Sponsor's package | $2500.00 |
The exhibition packages entail the following but not limited to:
A prominent feature of your exhibitor's company logo on the official website for the conference.
An exclusive in-person or virtual exhibition space – Vendor/Exhibitor Booth
On-site exhibition setup will include branded booths with tables, chairs, power source and spotlights.
Virtual booth will include a dedicated company profile page, uploading/embedding the recorded video of your company products, livestream content on your profile page, engage attendees through embedded chat and lead retrieval.
Advertising/Interaction slots with the both in-person and virtual conference audience
Besides the standard exhibition packages, you can also send an email with the details of preferred or custom packages you prefer to afliacomm@aflia.net with a copy to secretariat@aflia.net so that an invoice can be issued to you after which our technical team will link up with you for further actions.
B. Sponsors
Sponsors are vendors who are able to support the conference with additional payment for specific services as follows:
1. Closing Dinner for 200 conference participants and invitees = $5000.00
2. Cultural display during closing dinner – $2500.00
3. Cocktail Reception (1st day) = $4000.00
4. 200 Locally (Ghanaian) customized Conference bags = $5000.00
5. 200 copies of Conference Programme  = $4000.00
6. Adverts in Programme – Full page $5000.00; Half page $2500.00
*Sponsorship of over $5000.00 comes with one free advert in the programme.  
The following packages are offered exclusively to sponsors:
A prominent feature of your company's logo on AfLIA's adverts and online campaigns for the event.
Space for adverts on the conference landing page (images only).
Announcements will be made after every session to prompt the audience to visit the sponsor's virtual exhibition booth.
Closing remarks of each day's session will acknowledge the sponsors of the conference and remind the audience and attendees to check out their offerings.
Kindly click the button below and complete the Exhibitor/Sponsor registration form to express interest to exhibit; or exhibit and sponsor.