AfLIA Leadership Academy Cohort 1 stories (PT 1)
Effective leadership in libraries is a necessary component for innovative services that answer to 21st century users' expectations and development challenges. The AfLIA Leadership Academy (AfLAc) infuses the requisite knowledge and skills that enables Librarians to rise above the 'ordinary' and chart paths of relevance for their Libraries and greatness for themselves.
This is Miriam Mureithi's story
I am a principal librarian passionate about my profession and influencing the community positively with relevant skills. Kenya National Library Service Thika, is located in Thika Town, Kiambu County, about 45KM North East of the Capital City of Kenya, Nairobi. Thika is a metropolitan town that is habited by different speaking language groups though the dominating local language is Kikuyu. Being a metropolitan centre, there are a number of industries, learning institutions and also large farms. At one point, it was referred to as "The Birmingham City of Kenya" due to the high number of industries located in the town.
The region is surrounded by a good number of learning institutions starting from the basic to institutions of higher learning – publicly and privately owned. All the Government offices are within a radius of about 1 KM from the library. Some of the businesses and Government institutions surrounding the Library include, Mt. Kenya University, Bidco company (a food  processing industry), Kenya Motor Vehicle Manufacturers, Thika Level 5 Hospital, Thika Technical training Institute, Thika High School, General Kago primary School, Churches (Such as PEFA, ACC&S, St. Peter's Catholic etc), Ministry of Education offices, Government Administration Offices and many other small and medium scale enterprises.
The obvious challenges in Thika include:
Lack of 21st century skills by the youth
Lack of employment – A large workforce due to proximity to major towns and to the Capital City.
Technological divide
Poor or challenged reading culture
Growth of informal settlements
Inadequacy of social amenities
Drugs and substance abuse
Prostitution
The library is connected to the community in providing solutions to these challenges;
By organizing regular outreach programs for the school going and college students, this is done through collaborations with the targeted institutions.
Offering free ICT basic training, entrepreneurship skills and professional counseling to mainly out of school youths.
Thika library has been recognized as an Ajira Centre where, the public can access free computers, free internet and free Wi-Fi connectivity.
Empowering Community members to be online job creators.
Offering recreational services to the library patrons e.g. Indoor and Outdoor games, knitting etc.
These activities ride on new perception about the library. For a very long time, library was only seen as a place for school going children where they do their assignments or read to pass exams. The library has since changed from a place for reading to a community resource Centre that fills the gap for every individual member in the community without discrimination.
Community members visit the library for various reasons depending on their needs which range from educational needs, giving technical / professional advice (schools/institutions), lending to both individual patrons and to institutions, trainings (ICT and entrepreneurship skills), computers and internet usage, leisure activities etc. Below are the library statistical data on our performance for the month of September 2019 to December 2019 (one quarter).
| | | | | |
| --- | --- | --- | --- | --- |
| | OCTOBER 2019 | NOVEMBER 2019 | DECEMBER 2019 | TOTAL |
| ATTENDANCE | 5875 | 9693 | 3806 | 19374 |
| BOOK ISSUES | 2028 | 2993 | 3332 | 8353 |
| READERSHIP | 20507 | 28472 | 10217 | 59196 |
| ICT STUDENTS | 146 | – | – | 146 |
Collaborations have been key to livening up the library. Initially, it was difficult to get people and organisations interested in forming partnerships with the library. It was as if the library was not given priority and majority of Community members never bothered about what goes on in the library. With introduction of the empowerment program, my project in AfLIA Leadership Academy Cohort 1, I sought and got partnership with Department of Adult Education. This changed the library's narrative as other key stakeholders are approaching the library for partnerships as the word is moving very fast on the importance of Thika Library.
The AfLIA Leadership Academy experience was the best ever in my journey as a librarian. The one week residential training that took place in Nairobi challenged me to keep on doing something irrespective of the speed as long as it is a forward move. I got it drummed into my head that funding should not be considered as a challenge when the library is surrounded by community based assets.
AfLAc requires one to start a program without funds. In partnership with available community based assets, the youth empowerment program started and has continuously expanded. Since February 2019 when Cohort 1 graduated, the empowerment program has continued and expanded to include new topics and skills such as data analysis, self-esteem, self-identity among others.
AfLIA Leadership Academy has given me the professional backbone and grit to be committed to making Thika library a busy information hub and Community centre where people from all ages and different walks of life target to be their one stop destination for acquisition of life transforming skills, knowledge and gateway to opportunities.
---
The Author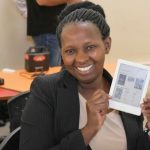 Miriam Mureithi.
Connect with her via the following social media handles;
Facebook:  https://www.facebook.com/mmureithi
Twitter:  @miriammureithi6
---
Read more exciting stories and articles here: AFRICAN LIBRARY VIBES
Want to learn how to contribute an interesting story or article to African Library Vibes? CLICK HERE TO CHECK OUT HOW TO DO SO.