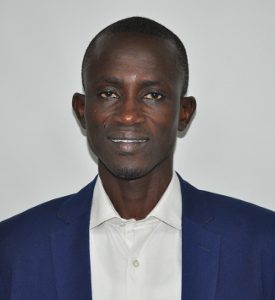 Mandiaye Ndiaye
Mandiaye Ndiaye is a senior Librarian and Head of the Reference Service and management of continuous resources at the central library of Cheikh Anta Diop University in Dakar, Senegal. He holds a Bachelor of Arts in Arabic and a Graduate Diploma in Library and Information Science.
He is the National Coordinator of Open Access Programme for the Consortium of Senegalese University and research libraries (COBESS) (since 2008), Secretary-General of Senegalese library Association, ASBAD (2012-2016) and Immediate Past President (2016-2018). Mandiaye has been Vice Chairperson of the Academic and Special Libraries of AfLIA (2015-2017). Member of IFLA Freedom of Access to Information and Freedom of Expression (FAIFE) Advisory Committee 2019-2021
M. Ndiaye is a trainer and advocate of free access to information and knowledge. He is a member of the Dynamic Coalition for Public Access in Libraries (DC-PAL) a framework within Internet Governance Forum.
He is a fellow of
IFLA International Leaders Programme (2016-2018) ;

International Visitors Leadership Program, IVLP of US Department of State on American libraries (2012) ;

King Faysal Research Center Saudi Arabia (2010) ;

French Committee for Libraries and Documentation (CFIBD) at IFLA WLIC 2013, 2014, 2015, 2019.
He represented IFLA as a delegate at several events: the Africa Regional Forum on Sustainable Development (ARFSD), May 2018; the African Internet Governance Forum (IAGF) December 2017; the African Internet Governance Forum (IAGF) October 2016. And also member of IFLA delegation to the UN High-Level Political Forum (HLPF) July 2017; member of the IFLA delegation to the Global Internet Governance Forum (IGF) December 2016.