Topic: Implications of Openly Licensed Resources for Librarians
Date & Time: Thursday, 2nd May 2019, 11am GMT
Quality education is basic for the development of Africa. Goal 4 UN Sustainable Development Goals (SDGs) – "ensure inclusive and equitable quality education and promote lifelong learning opportunities for all" as well as the second Goal of the first Pillar, AU 2063 Agenda – "well educated citizens and skills revolution underpinned by science, technology and innovation" highlight this. Building up the intellectual capital of Africa through quality education even as the Fourth Industrial Revolution (4IR) births in the continent has become very critical. Consequently, teachers and students at all levels need relevant, quality, up-to-date, easily accessible and affordable or no-cost information resources in order to achieve this. Lifelong learners, especially those not engaged in formal education and those engaged in distance learning also need access to affordable and quality information resources in order to understand current best practices and developments in their fields of interest. With the ongoing penetration of Internet penetration in Africa, Open Educational Resources (OER) have become a viable option to provide these information resources to African students and teachers and lifelong learners.
African Library and Information Associations and Institutions (AfLIA) is deeply committed to the development of knowledgeable, skilled, and passionate African librarians that can form the information superstructure for the 4IR on the continent. Therefore, the Association believes that it is critical to build up the capacity of African librarians in the area of OER. This has great potentials of driving quality education that can birth innovations for the transformation of African communities.
The first two part of the OER webinar series, OER Webinar 1.0 and OER Webinar 2.0, exposed librarians to how to find and assess openly licensed resources. In this last part, librarians will learn how to integrate what they have learned about openly licenses resources into their work. With access to all these openly licensed resources, librarians will need to establish processes for managing this content and to find ways of supporting academics and students to access and use high-quality research and resources. Registration for the webinar ends on May 1, 2019.
Resource Person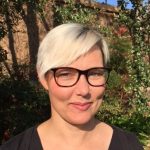 Kirsty von Gogh is a Project Manager at Neil Butcher & Associates. Before joining Neil Butcher & Associates, Kirsty worked in educational publishing, producing print and digital titles for South Africa, Botswana, Lesotho, Swaziland and Namibia. She has extensive experience publishing print textbooks and resource materials for the schools' curricula across all grades and subjects. Kirsty has also commissioned and produced digital assessment materials and interactive content for the South African schools' market. Kirsty's current work is focused on early literacy and open licensing for a project funded by the William and Flora Hewlett Foundation.
Who should attend?
Academic librarians
Research librarians
LIS educators/students
Librarians of Special Libraries
Interested persons who wish to expand their knowledge in OER
Technical Requirements
Persons who registered for the first or second session(s) do not need to re-register. Reminders will be sent to all who have registered periodically. This webinar will be offered using Zoom Conferencing Platform (click to download). Participants will need to download, install and create an account on Zoom ahead of time (if they do not already have Zoom installed). Audio and video for the session will be streamed over computer speakers. Attendees are therefore encouraged to connect with a headset or earpiece and preferably, a wide screen (laptop or desktop computer) for maximum utility. Participants will be able to ask questions and interact with the presenters and other webinar participants via chat.
All webinar resources (presentation slides and webinar recordings) of the previous sessions as well as this session will be shared, as a complete package, with webinar registrants after this last part of the series to enable thorough engagement with the webinar content. Webinar attendees who will participate in at least two of the three-part series will be eligible for a certificate of participation. For further enquiries and assistance about the webinar contact us at afliacomm@aflia.net.
Kindly bring this to the attention of your colleagues in the library and in professional circles you belong to. It is free!!! Join us let's upgrade the quality of education in Africa and increase the growth of intellectual capital that will drive the 4IR in our continent.