15TH NOVEMBER, 2020
The Global Media and Information Literacy Week 2020 with the theme 'Resisting Disinfodemic: Media and Information Literacy for everyone and by everyone', ended recently. AfLIA (African Library and Information Institutions and Associations) engaged with African librarians though a 5-day course. This culminated to the articulation of Action Plans. AfLIA is working with some participants of the course for the actualization of these Action Plans that will see the inculcation of media and information literacy skills to various communities across Africa. This has become necessary as disinfodemic about the COVID-19 crisis is deadly and has possibilities of doing more harm than the virus itself.
Preview of best action plans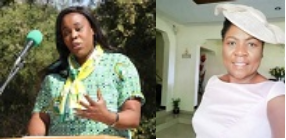 In Zambia, Velenasi Musanje (left) and Mutinta Nabuyanda (right) plan to train 25 public librarians on understanding and teaching others about disinfodemic concerning the COVID-19 crisis. The plan also includes the creation of a WhatsApp group/emailing database for all public librarians to take part in the training. All librarians working in Zambian public libraries are expected to utilize this window of opportunity to learn new skills that will help their user communities understand how to cope with the overload of information about COVID-19.

According to Harriet Ncube, a member of the Zimbabwe Library Association National Advisory Council, reaching all citizens with verified and factual information on COVID-19, including those living in remote areas and ensuring that people in the field of information are a major integral part of the groups dealing with COVID-19 information issues is critical.
Her Action Plan is to equip librarians who should be in the forefront and not be kept in the background in the fight against disinfodemic so that they can help their communities in Zimbabwe discern authentic information about COVID-19. Harriet hopes to partner with Zimbabwe Library Association (ZimLA).

Zvimba rural area is a remote area that is in Mashonaland West province in Zimbabwe. The area consists of communities in Guzha, Musarurwa, Murombedzi, Masiyarwa and Makhakhi. Beatrice Kaseke, a participant in the AfLIA Global Media and Information Literacy aims to make information about COVID-19 freely available to the communities who are mostly farmers. This is important as the training on disinfodemic is for everyone – lettered and unlettered, young and old.
Josiline Chigwada is another librarian from Zimbabwe. Her Action plan entails working with school librarians in Mashonaland Central, Zimbabwe on understanding how to deal with fake news and with COVID-19 disinfodemic so that they can effectively help young people

Petronilla Omete is Kenyan librarian working in academic libraries. For Petronilla, the academic and non-academic staff of University of Eldoret need to understand the damages of disinfodemic about COVID-19. Among other things, as part of her Action Plan, she aims to create links to reliable sources on latest information and updates on Covid 19 health and safety measures which will include links to WHO and UNICEF. This will help her target audience be updated constantly on facts about the COVID-19 crisis. University of Eldoret is in Jasin Gishu County, Kenya.

For Rodney Malesi, who works with United States International University, Nairobi Kenya, he plans to impart media and information literacy skills to 10 librarians, 10 faculty members and 10 other staff members who are involved with day to day interactions with students in his institution. The institution is privately owned and is located in Kasarani, Nairobi.
In Federal University of Technology Owerri, Chinwe Anunobi, the immediate past University Librarian in the institution and a participant in the Global Media and Information Literacy course understands the importance of more librarians joining in the fight against disinfodemic about COVID-19. She plans to enhance the Media and Information Literacy skills of thirty-five (35) academic librarians in FUTO towards mitigating the menace of disinfodemic in the University System.

Umar Abubakar Dewa is from Yola, Adamawa State. Nigeria. He believes just like Adaora Obuezie that one's WhatsApp group is a sure pathway for inculcating colleagues with Media and Information Literacy skills. He hopes to help his colleagues learn how to be critical when looking at posts on the social media, how not to spread false information through social media platforms, how to report false information to administrators of groups on social media, how to verify information when in doubt and how to make more 'noise' with facts than those who share false information.

Jamilu Abdullahi plans to manage disinfodemic among adult literacy learners in Nassarawa Local Government Area, Kano State. This is crucial as older people who may not have developed critical thinking through formal education may have greater tendency of falling for and being involved in the creation and spread of fake news about the COVID-19 pandemic.

Abubakar Sadeeq Isa is from Kano State. He has a four-step Action Plan. He wants to train 20 librarians in his institution. He wants to train 20 librarians from his institution who will assist in stepping down the training to students, community organisations and others in rural areas. His plan is to use the 5Ws and 1H – 'Who is the author of the information? What is the content of the information? Where was the information published or publicized? When was the information released? Why was the information published? And how is the information going to affect the target audience?'

Adaora Obuezie is a librarian from Anambra State, Nigeria. Ada plans to educate her colleagues in a WhatsApp group for the Nigerian Library Association, Anambra State Chapter about disinfodemic about COVID-19 crisis and the role of librarians in checking it especially on WhatsApp where the spread of information (true and false) to groups and individuals is very effective. Training librarians in the WhatsApp group would enable them serve as champions in other groups they belong to.

Florence Amaka Nwofor, also a librarian from Anambra State, Nigeria, is more interested in young people. Her Action Plan is to teach the final year students of Library and Information Science in Nnamdi Azikiwe University, Awka about how disinfodemic can be a huge problem in getting out of the COVID-19 quagmire. Amaka plans to have training sessions with these next-generation librarians so that they can begin to propagate the fact that librarians do matter in inculcating media and information literacy skills to all.
Expectations
It is hoped that the eyes of the entire Library sector will be on these colleagues who are on their way to becoming pioneers of how librarians can practically lead in the fight against the COVID-19 disinfodemic that has become a scourge the world over. Implementation reports of the Action Plans will be put on AfLIA's website and widely circulated for inspiration and adaptation.