The Bulawayo Public Library is in the heart of Bulawayo, Zimbabwe. Research to establish reader needs revealed that users with full-time employment could not use the library during the day because of their work-related commitments. Furthermore, students needed additional time to study and complete their assignments after school. But the library closed for service at 6pm!  Frequent power cuts in the city rendered it impossible to complete assignments at home. It was evident to the Bulawayo Public Library team that these problems contributed to poor readership trends in the community and low pass rates in schools.
Following the research, the library seized the opportunity to respond to user needs by extending its opening hours to 8pm. Extending library operating hours by two additional hours in the evening to accommodate all users including even those at work seemed the right thing to do!
Rita Budi, an INELI SSAf second cohort participant, has been equipped with skills to identify and introduce relevant solutions to community challenges. She also learnt that working with partners was key to meeting community needs. She says, "there is power in numbers than in being alone hence, when making an innovation it is important to involve others, work with them and not always want to take the glory but notice and acknowledge the strengths of others and excel together with them". In this project, she collaborated with surrounding schools including Herentals College, and Girls College, as well as, the National University of Science and Technology.
The objectives of the extended opening hours programme are to facilitate access to information resources and services, and to provide an attractive environment safe for reading at night. The library sought to accommodate everyone including those that could not use the library during the day. It also provided discussion spaces to encourage peer to peer learning. Since the initiative started in August 2019, it has so far proven very popular especially between September and October as the students prepared for examinations. There are now 41 students who are regulars!
Two students who use the evening space have had this to say, "I am thankful to the Bulawayo Public Library for opening the doors for us in the evening which has saved us from reading using candles or torches". Another patron said "I needed a quiet environment far away from children who will be disturbing while studying! I thank the library for helping me fit in two hours of study soon after work!"
Rita and her team's intervention have helped reach many students and with much needed study space. It became the only space to learn in the evening for many students.
---
About the Author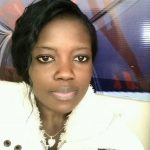 This article was put together by Rita Budi, a graduate of the National University of Science and Technology (NUST), Zimbabwe. She is currently a Librarian at the Bulawayo Public Library and an INELI-SSAf second cohort participant.
Connect with Rita on Facebook:  https://www.facebook.com/rita.budi.3
---
Read more exciting stories and articles here: AFRICAN LIBRARY VIBES
Want to learn how to contribute an interesting story or article to African Library Vibes? CLICK HERE TO CHECK OUT HOW TO DO SO.