by Guy Amarteifio
An AfLIA Leadership Academy Cohort 1 project

Reading is very essential to every child's education. It is the pathway to high performance and success in school. Early childhood reading develops an impressive capacity for imagination, a precursor to creativity and innovation. But when children cannot read effectively, they find it difficult to follow lessons in the classroom and writing assignments. Inability to properly read leaves children disadvantaged on the path to academic excellence, a situation which often times lead to their dropping out of school.
Guy Amarteifio works with the Ghana Library Authority (GhLA). After nine months of training at AfLIA Leadership Academy, he took a decision to embark on a project on a project to address the critical issue of poor reading ability among school children in his community by establishing Readers' Clubs in the basic schools in selected schools in the Accra Central and Osu communities. The decision to establish Readers' Clubs was premised on the findings of a brief needs assessment exercise he carried out within the Accra Central and Osu communities.
"I undertook a needs assessment of two communities in the Accra Metropolis, that is Accra Central and Osu Communities, and realized that many of the pupils had problems with reading and therefore did not perform well academically"

– Guy Amarteifio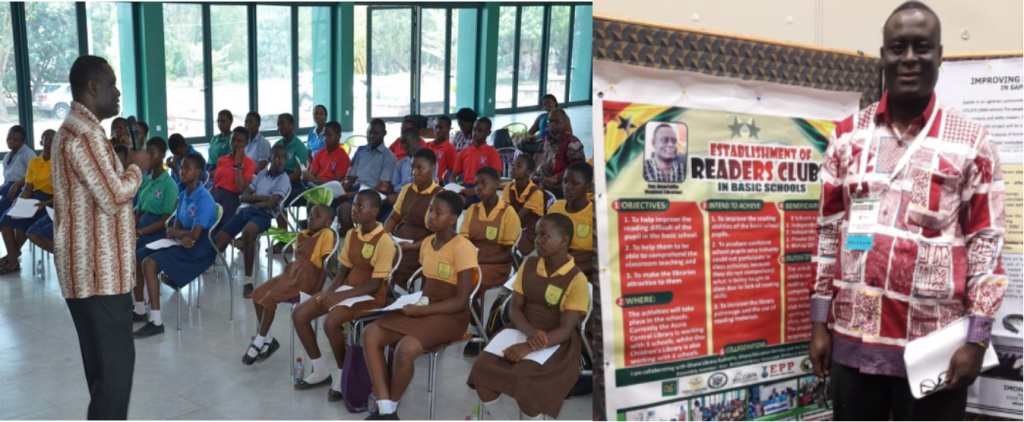 After a few engagements with the school children, he realized that the pupils had differing reading capacities. Guy adopted an integrated approach of grouping the pupils of the beneficiary schools based on their reading abilities or difficulties. A total of nine primary schools, including the Independence Avenue 1 & 2 Schools and Osu-Manhean Basic Schools have been chosen for this project. The selected schools are engaged in reading related activities such as Book Discussion, Reading Clinics, Story Hour, Spelling Bees, Phonics, alphabet recognition and Homework clinics. These school children are also given books as awards to encourage them to read especially those who take keen interest in the reading activities.
The initiative by Guy has contributed to an increased patronage of the Accra Central Library as growing number of school children in his community have cultivated interests in reading and are taking part in reading activities through the Readers' Clubs. It is his hope to extend this initiative to schools in neighbouring communities to motivate children to read more. As Guy works with schools to improve the skills of children with reading difficulties through the formation of a Readers' Club, the confidence of these pupils are boosted while acquiring greater skills to read with understanding. This project focuses on SDGs 4 which is to 'ensure inclusive and equitable quality education and promote lifelong learning opportunities for all'.