Published: January 25, 2019
by Beatrice Adwoa Ampadu
An AfLIA Leadership Academy Cohort 1 Project
In Ghana, Beatrice Adwoa Ampadu worked with the Ministry of Education and Health as well as NGOs, Churches and community leaders on providing health information and sanitary wares to students to curb the rampant teenage pregnancy problem thus helping them to stay in school and get education. Females represent 51.2 percent of Ghana's population out of which 22.4 percent are adolescent. It is estimated that 750,000 adolescents get pregnant annually in Ghana. In the communities being served by the Library, teenage pregnancy among pupils in Junior High School is increasing at an alarming rate. In 2015, 100,00 cases were recorded. The next year it rose to 18342 (Aninanya et. al., 2015). Preliminary raw data examined show a marked increase in 2017.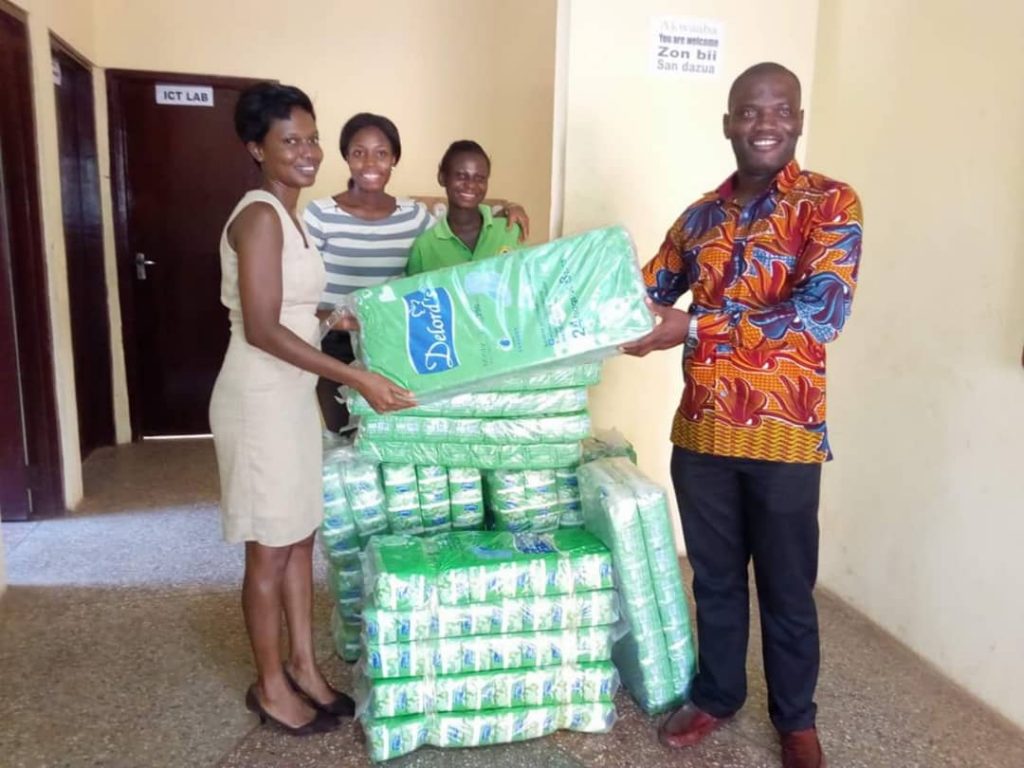 Most affected are young girls aged between 13-17 years who are yet to write their Basic Education Certificate Examinations (BECE). Due to lack of adequate information about the biological changes that take place in a female adolescent's body, these children fall prey to teenage pregnancy. This invariably causes girls who suffer the unfortunate fate of teenage pregnancy, to drop out of school amid social stigmatization. Beyond the health risk implications of physically immature girls being mothers, many of them also slip into poverty and depression. This has grievous health and socioeconomic implications that are capable of creating inequalities and hinder development in the society.
(Image: Schools within the Mamprobi community during the training session)
The librarian successfully explored and got collaborations with the Member of Parliament representing the Ablekuma South constituency, Planned Parenthood of Ghana (PPAG), the Directorate of Public Health, Mamprobi Polyclinic and Ghana Education Services. The project reached 2000 school children within the ages of 10 -16 and educated them on reproductive health, abstinence and the need to mature physically, mentally and economically before making babies. The first series of campaign to curb teenage pregnancy was held at the Socco Cluster of Schools, Mamprobi on 17th May, 2018. Subsequent talks were hosted by the Catholic Church in the community. Midwives, doctors and family health specialists addressed the various outreaches made up young girls and boys from different schools. The young people were made to understand the processes of pregnancy and childbirth as well as likely implications when underage girls get pregnant.
The Library collected baseline data from ante-natal facilities of teenage pregnancy in the wider community. This data will be reviewed after a year in correlation with other factors to determine if the rate of teenage pregnancy has gone down and if the project has helped in curbing teenage pregnancy in the area. For the purpose of sustainability, the Library took a record of the schools and children in attendance and has signed up to start book box mobile service to them. All the resource persons also encouraged the young people to keep in contact with them and ask for one-on-one discussion anytime they have difficulties. Also, an NGO has started to hold a Talk programme on teenage pregnancy every month in the Library. The librarian had also gone on Twitter and Facebook to talk about the project with the hashtag #LibrariansWhoDare. This created awareness about the programme. Sanitary towels which were donated by individuals and faith organisations were given to all the young girls who attended the programme in different venues.
This project is important for the development of the community and directly addresses the UN 2030 Goals especially Goal 3 – 'Ensure healthy lives and promote well-being for all at all ages'. In particular the project focuses on Target 7 of Goal 3 – 'By 2030, ensure universal access to sexual and reproductive healthcare services, including for family planning, information and education, and the integration of reproductive health into national strategies and programme'. The project also speaks to AU 2063 Agenda Aspiration 1 – 'A prosperous Africa based on inclusive growth and sustainable development' with particular focus on the Priority Area of 'Health and Nutrition'. This project also addresses one of the five pillars of Ghana's Long-Term Plan 2015-2035 – 'Build an equitable healthy and prosperous society'.
References
Aninanya G.A., Debpuur C.Y., Awine T., Williams J.E., Hodgson A., Howard N. (2015). Effects of an Adolescent Sexual and Reproductive Health Intervention on Health Service Usage by Young People in Northern Ghana: A Community-Randomised Trial. PLoS ONE 10(4): e0125267. https://doi.org/10.1371/journal.pone.0125267