28 MAY 2023
AfLIA welcomes 2023-2025 Governing Council and first female president at the 5th AfLIA Conference and 7th African Library Summit
The 5th AfLIA Conference and 7th African Library Summit held at the Erata Hotel in Accra- Ghana, marked a significant milestone for the African Library and Information Associations and Institutions (AfLIA) as the organization inaugurated the 2023-2025 Governing Council and celebrated the election of their first female president, Professor Rosemary Shafack.
The conference, which coincided with AfLIA's 10th anniversary, was held under the theme "Future of learning, libraries, and sustainable development in Africa." The event provided a platform for professionals in the library and information field to discuss and shape the future of their profession on the African continent.
During the conference, the newly elected AfLIA Governing Council for the 2023-2025 term was introduced, accompanied by the executives of the various sections within AfLIA including National Libraries, Parliamentary Libraries, Academic Libraries, Special Libraries, Public and Community Libraries, National Library Associations, Academic Libraries, as well as Library Education and Training Institutions.
In her presidential address, Professor Rosemary Shafack expressed her gratitude and acknowledged the exemplary leadership of the previous AfLIA presidents, Dr. John Tsebe, Mandla Tombela, and Alhadji Alim Garga. She pledged to build upon their achievements and fulfill her duties to the best of her ability, guided by the vision of a strong and sustainable African library community.
President Shafack emphasized the pivotal role of libraries and information services in driving societal development, fostering equal opportunities, and providing access to lifelong learning, education, research, innovation, culture, and recreation. She underscored the importance of embracing digital advancements and positioning professional skills to meet the evolving information needs of the continent.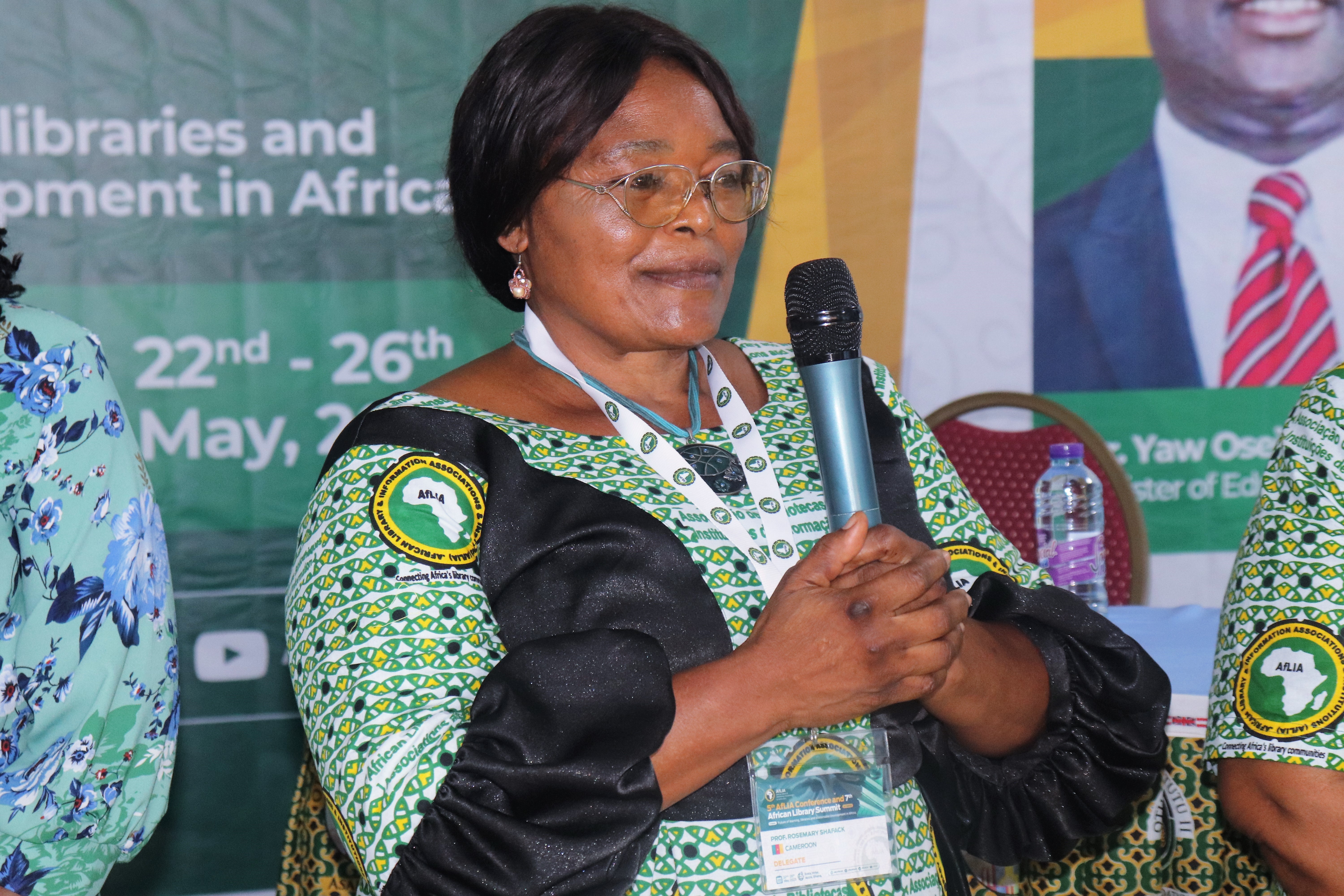 The 2023 AfLIA Conference provided a platform for networking, sharing best practices, and advancing the collective goals of the African library and information sector. The event attracted professionals, scholars, and stakeholders from across Africa and beyond, contributing to a vibrant exchange of ideas and strategies for the future of libraries in Africa.
AfLIA's milestone of electing its first female president, and council members representative of all sub-regions in Africa aligns with its commitment to diversity and inclusivity, empowering women to play leadership roles in shaping the library and information landscape. The Association remains dedicated to promoting libraries as catalysts for sustainable development and equitable access to information and knowledge throughout Africa.
Below is the full list of the new leadership: 2023-2025 AfLIA Council Members
Name
Position
Country
Prof. Rosemary Shafack
President
Cameroon
Sarah Iyaloo Negumbo
Vice President
Namibia
Mr. Alim Garga
Immediate Past President
Cameroon
Dr. Helena Asamoah-Hassan
Executive Director
Ghana
Mr. Kepi Madumo
Chairperson: National Libraries Section
South Africa
Dr Mac-Anthony Cobblah
Chairperson: Academic Libraries & Library Consortia Section
Ghana
Andrew Mankone
Chairperson: Parliamentary Libraries Section
Kenya
Lynn Jibril
Chairperson: National Library Association Section
Botswana
Antonneta Madziva
Chairperson: Public and Community Libraries Section
Zimbabwe
Dr. Sarah Kaddu
Chairperson: Library Education and Training Institutions (LETIS) Section
Uganda
Richard Fodjour
Chairperson: Special Libraries Section
Ghana
Velly Koumba Landry
Central Africa representative
Gabon
Eric Nelson Haumba
Eastern Africa representative
Uganda
Maha Abbas
North Africa representative
Egypt
Kepi Madumo
Southern Africa representative
South Africa
Mrs. Neemat Abdulrahim
West Africa representative
Nigeria
Sulemana Sogoba
French Speaking West Africa rep
Mali
Tendayi Madziga
Portuguese Speaking Africa rep
Mozambique
Doreen Appiah
Secretary (AfLIA Staff)
Ghana
CO-OPTED MEMBER
Dr. Nem Osuigwe
Director of Human Capacity Development & Training
Nigeria